Slettnes (7105'N 2813'O) is a coastal plain at the northeastern tip of Nordkinn (or Nordkyn) Peninsula in Finnmark, Norway (east of North Cape). At first sight the vegetation may seem sparse. The lack of trees and shrubs and the wide expanses of stony "desert" give a strange impression. However, plants life is not as sparse as one might think. More than 350 different species of plants have been registered at Nordkinn.
The lighthouse at Slettnes – about 4 km north of Gamvik – is the most northerly mainland lighthouse in the world! The lighthouse is at the same latitude as the northern tip of Alaska. The lighthouse stands on a plateu about 8-10 meters over the sea which gives excellent opportunities for watching migrating seabirds or local movements of breeding seabirds. Birds often pass straight overhead or near the coastline. A major advantage of watching spring migration is the favourable light conditions on clear days, when the birds arrive from the southwest towards east. Apart from facilitating the identification of the birds, this also makes the sea-watching so much more pleasant. Near the houses, which surronding the lighthouse, one could always find shelter from all wind directions.
According to the meteorologists, it's never summer in Gamvik, a summer month, by definition, has an average temperature above 10° C. At the lighthouse at Slettnes, August is the warmest month with 9.6° C. So, Gamvik actually only has winter, spring and fall, but do have midnight sun and long periods of fine summer weather.
Gamvik have about 200 inhabitants. The natural surroundings in the area are rich and varied, with excellent fishing in rivers and lakes and variety of cultural activities. The economy is centered around fishing, fish products, and export to many parts of the world. The airport at Mehamn (25 km southwest of Gamvik) has daily connections whith Tromsö and the rest of the country.
In Gamvik you will also find store, museum and Gamviks "Guesthouse" with accommodation, pub and restaurant. However, the village Mehamn is only 20 km away if you need to visit a bank and here you will also find several stores and gas stations.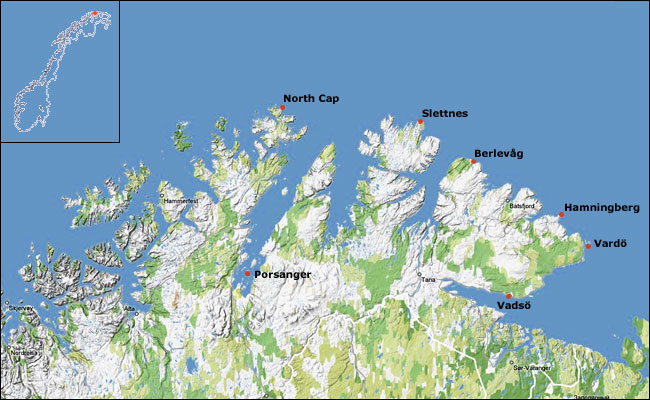 Map of Arctic Norway. Here you'll find a detailed map of the Slettnes lighthouse/Gamvik area»
Here you found a resizeable satellite map at Google map»

North Cap seen from Hurtigruten. A very dramatic and peaceful place to experiance.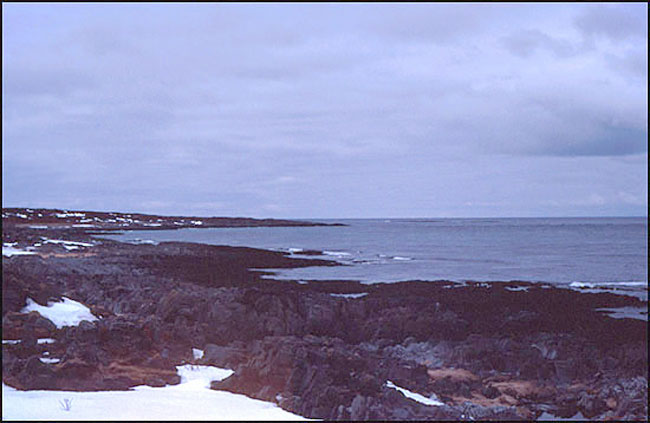 View towards west from the top of the Slettnes lighthouse. Photo: Niklas Holmström.